History of Christmas Friendship Dinner
It all started in 1991 in Wasilla, Alaska, when Harold Newcomb with the Wasilla Lions Nooners Club came up with six turkeys and asked Bob Bowers to prepare a Christmas meal to be served at the Wasilla Senior Center for people who didn't have a place to go for Christmas. Bob provided the rest of the food and the kitchen equipment and cleaned before and after the event. The two men served 67 guests that year. It was a huge job for two men and each year, as the number served grew, so did the group of volunteers. In 1997, 500 people were served 25 turkeys and 20 hams at the Senior Center.
Available to each and every person in the community, regardless of need, the gathering eventually outgrew the Senior Center, so it was moved to Wasilla High School in 2001. By 2007, we had 200 volunteers serving 1200 guests. Then in 2009, the event was moved to its current venue, the Curtis D. Menard Memorial Sports Center in Wasilla, also called the Menard Center, owned by the City of Wasilla. Along the way, the event was named the Christmas Friendship Dinner (CFD) to reflect that it is for everyone to come and enjoy the company of neighbors, family and friends.
As the years went by, the number served continued to grow to 4,000 and beyond, requiring over 550 volunteers. Then in 2020 the COVID-19 pandemic hit and large gatherings were prohibited or discouraged. The organizers of the CFD had to come up with an alternative to serving a large congregate meal, so drive-thru meals were offered.
Then in 2021, Christmas Friendship Dinner Inc. was formed, after previously operating under the MatSu Food Bank. Today, CFD is a 501(c)(3) nonprofit organization with a Board of Directors.
Meet our Board of Directors
!
Since 2020, the number served hasn't reached its previous peak, but it is growing again. For example, in 2022, 2500 friends and neighbors were served a sit-down meal at the Menard Center and 400 meals were distributed to 100 vehicles in the drive-thru. Furthermore, a team of volunteer delivery drivers delivered an incredible 450 meals from the Menard Center to homebound friends and their families located from Talkeetna to Sutton, an area encompassing almost 4,000 square miles, in the Matanuska-Susitna Borough.
Besides serving a traditional Christmas Dinner with all the fixings and dessert, CFD volunteers (dressed as Santa's elves) distribute gift bags to all children, teens and seniors who attend the dinner. Board games are distributed to home delivery families with children. Santa and Mrs. Claus are available for photos, face-painting is enjoyed by kids and adults alike, and entertainment is provided throughout the event. It is truly a family affair!
As you can imagine, it takes a lot of hands to pull this off. Volunteers include individuals, families, clubs, civic organizations, schools, businesses and more. We have several teams of volunteers who plan, set up and decorate; cook, prepare, serve, and deliver food; warmly welcome, seat and serve guests; sew aprons, costumes and gift bags; entertain guests; assemble and distribute gift bags; ensure safety; clean and sanitize; and put everything away so the Menard Center can go back to serving the kids of the community. To learn what you can do to help go to Get Involved.
In addition to the volunteer hours needed to pull off this type of event (over 2000 hours per year), a great deal of support from the business community is needed. Local businesses, charitable foundations, City of Wasilla, churches, civic organizations, and individuals pitch in with food, services and financial contributions. This is an event organized by the community for the community. A community that is not confined to any one area or demographic but is open to all regardless of their social, economic, or religious situations or beliefs. There is never a charge for the dinner and no donations are accepted on the day of the event. If you would like to make a financial contribution prior to the dinner, see our Donations Page.
Click Images To View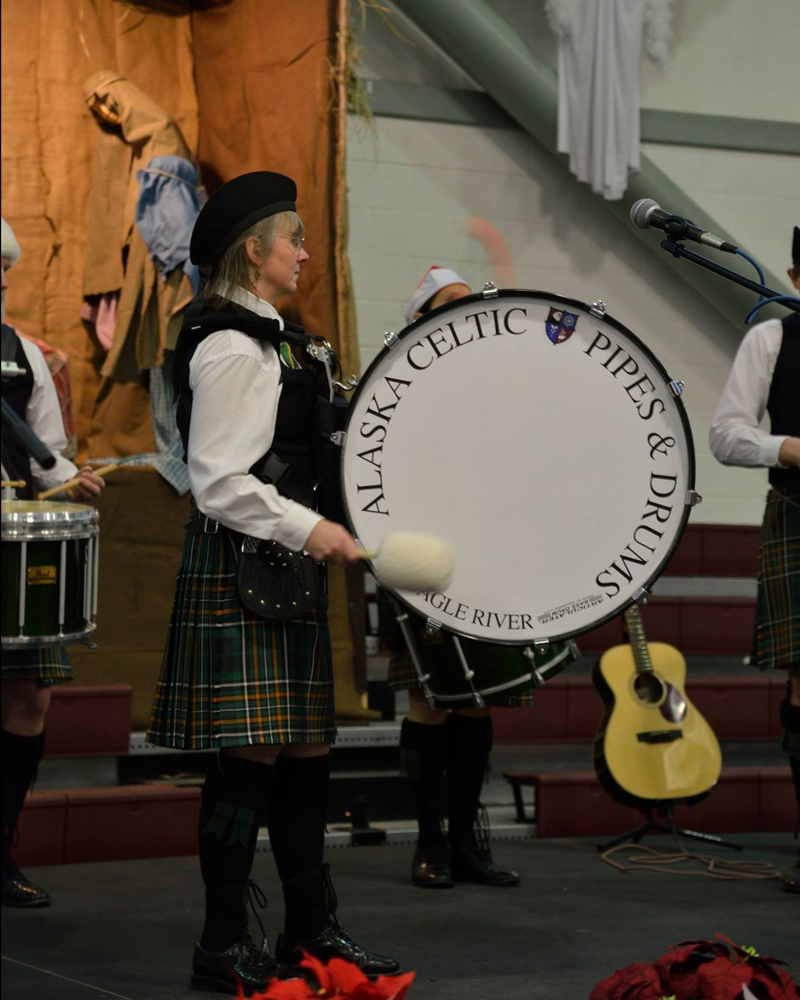 Following are some anecdotes from the Christmas Friendship Dinners of the recent past:
1 – A family that had requested meal delivery in the Meadow Lakes area wasn't home when the delivery was attempted. Our volunteer driver stopped to fill gas and overheard a gentleman saying that he had two kids and wasn't able to provide Christmas for his family. Our driver said "let me make your day" and gave him the meals for his family.
2 – One year a father and his two teenage sons came and volunteered to wash dishes. After several hours we tried to relieve them to go home or sit down for dinner but they didn't want to quit. Come to find out, the mother had passed away earlier in the year and they couldn't bear to be at home without her. They thanked us for allowing them to keep busy in their time of sorrow. One year, 5,000 meals were served and after some checking, we discovered that we had served the largest Christmas meal in the nation that year.
3 – In 2022, a massive wind and snow storm threatened to close down the Menard Center in the days leading up to Christmas Day. Officials were requesting people to stay home and off the roads as trees, building and vehicles were being blown around. Only the bare minimum volunteers were allowed in the arena to prepare the meal and set up. The flats between the Valley and Anchorage were especially treacherous with blowing snow and icy roads. Our dessert lead volunteer (her first year) drove into Anchorage to buy pies at Costco with donated funds and had them piled up in her cart. The power went out so they weren't accepting credit cards. While her husband went to the ATM to get cash, other shoppers were curious about all the pies. As she explained what they were for, her husband returned with the maximum amount of cash the ATM would allow. When they came up short, other shoppers offered to make up the difference.